Pewter Countertop Sample
The artisan cast process is a way of applying a metal coating that is bonded to a real wood core or to an exterior grade substrate. The resulting coating consists of 80% actual metal. The metal tops look and behave just like that of sheet metal products.
You can expect pewter's rustic charm to show through, as artisan cast tops will develop a patina and display a unique pattern of use. The slight imperfections, and casting marks give pewter a time-honored appearance befitting the Bistro name.
Pewter Cafe Table Top
Bring European charm home with an artisan cast pewter cafe tabletop!
All artisan cast metal table tops are hand-detailed by our skilled craftsmen and finishers. Each top is custom-made with care and dedication to provide you with a time-honored style.
Pewter countertops have a living finish that will evolve throughout the life of the top and will develop a distinctive and unique patina and pattern of use.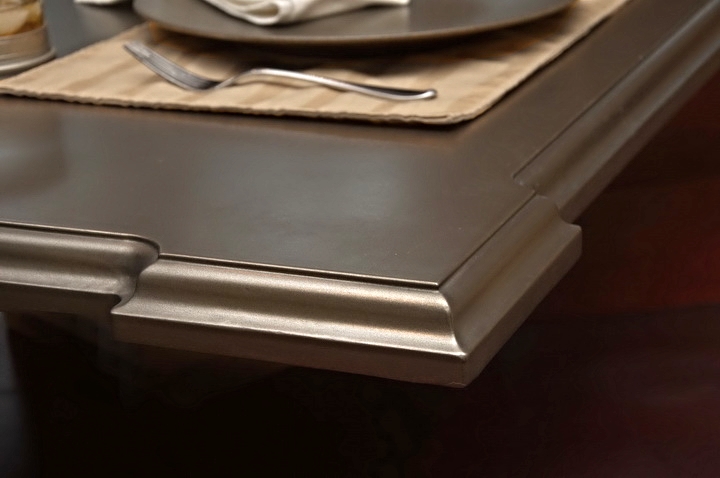 Pewter Countertop Edge Detail Closeup
Not only can we incorporate any edge detail on artisan cast metal countertops, we can incorporate complex shapes as well.
The artisan cast process enables us to produce seamless notched corners, radius edges, and curved shapes on metal countertops.
Pewter Countertop with Acanthus Edge
Artisan cast pewter countertop for a kitchen island with a 2 1/2" thick Acanthus edge profile.
Acanthus Edge Profile on a Pewter Countertop
A 2 1/2" thick Acanthus edge profile on an artisan cast pewter countertop for a kitchen island.
Artisan Cast Pewter Countertops have a time honored rustic appearance that is achieved through its hand distressed finish. Each metal countertop is hand-detailed by our skilled metal craftsmen and finishers, who are accustomed to the characteristics of time honored metal countertops.
Artisan Cast metal surfaces have the same qualities as and behave similar to sheet metal countertops. All normal metal finish options are available; brushed, matte, or with a patina. Like sheet metals, the artisan cast products will continue to evolve throughout the lifetime of the countertop.