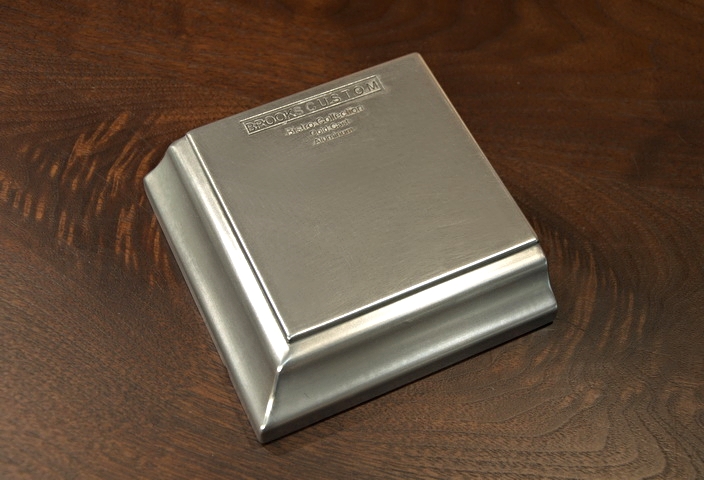 Aluminum Countertop Metal Sample
Aluminum is a soft metal that is typically too malleable to be used in sheet metal countertops, though its silver tone is often in demand by designers and clients.
The artisan cast process eliminates many of the deterrents of designing aluminum countertops and provides an option for us to add decorative edge details and complex shapes.
Aluminum Edge Profile
A close look at one of the many edge profiles that can be used on an artisan cast metal countertop.
Not only can we use any of our standard ogee edges usually used on wood countertops, we can add custom fancy edges or decorative edge profiles as well.
Distressed Aluminum Metal Edge Profile
Artisan Cast Metal Countertops have a hand-distressed finish and distinct charm.
The artisan cast tops are more malleable than hand-wrought sheet metal, allowing your countertop to form its unique pattern of use to be more prominent than it would be on sheet metal.
Because of the malleability of the material, we recommend them to be used in low traffic areas, like residential bar tops, wet bars, metal table tops, furniture, moldings, or other decorative metal accents.
We are still developing this process, and testing the durability of its use as the kitchen counter and island tops.
Aluminum artisan cast countertops from the Bistro Collection.
While all metals in the Bistro collection will acquire a unique pattern of use, aluminum's soft composition will make these patterns more prominent.
You can expect to see slight imperfections, dings, and casting marks in the surface. The finish will also show blush marks, patina, and darkening over time. All of these character marks will blend together and continue to evolve throughout the lifetime of the product.